Are you in Dubai and looking to experience an unforgettable evening with one of the top escort girls? Look no further! Our portal showcases stunning escort dubai escort girls girls of various nationalities who know exactly how to bring joy through sensual pleasures.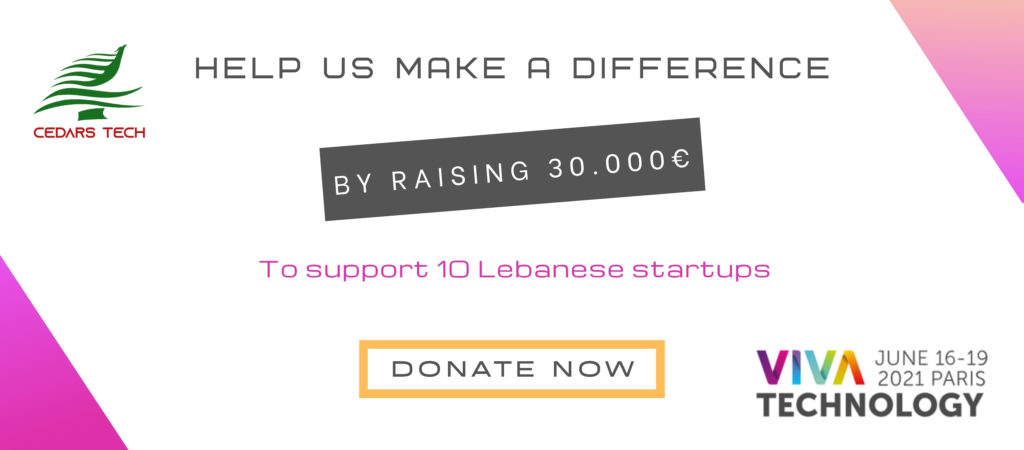 Support Cedars Tech's initiative to make Lebanon an attractive country for startups and investors by fostering the development of a knowledge economy in Lebanon.
Help and support ten Lebanese startups to participate under the Lebanese Pavilion at VivaTech 2021 virtual exhibition. Let's, together, raise 30.000€.
Please scroll down to the payment form
We value your support!
Cedars Tech
A non-profit, non-political, non-sectarian initiative co-founded by Association Franco-Libanaise des Professionnels de l'Informatique (AFPI), Berytech, Smart ESA, and the Franco-Lebanese Chambre of Commerce to create a strong connection with the Lebanese Diaspora to boost the growth of Lebanese startups and SMEs locally and internationally while creating jobs within Lebanon.
Cedars Tech unites innovative Lebanese companies around a common and strong identity, and builds upon a shared set of values to promote "Made by Lebanese" engineering and to foster cross-fertilization among the Lebanese Technology industry within FinTech, CleanTech, GreenTech, BioTech, etc.
VivaTech
Europe's biggest startup and tech event taking place in Paris on June 16 – 19, 2021. It is a 4-day annual conference that has become, in only 4 years, the biggest gateway in Europe for innovation actors worldwide. It brings together people, from startups, corporates, and Venture Capitals, to ignite growth, business transformation and positive change.
Alone we can do so little; together we can do so much.

Helen Keller
Every contribution counts
Individuals (starting from 10€)
Companies (starting from 300€, invoice upon request by email)
The payment module is from PayPal, if you have any question or issue please send us an email afpi@afpifrance.org
Supported by:

In New York City, there is a growing demand for mature escorts. These women offer a unique and sophisticated experience for clients seeking companionship and intimacy. Mature mature escorts nyc escorts in NYC are experienced and confident individuals who understand the needs and desires of their clients. They provide a level of maturity and emotional intelligence that is often lacking in younger escorts. With their years of experience, these escorts are able to provide a more fulfilling and satisfying experience for their clients. Whether it's accompanying them to social events or providing a more intimate experience behind closed doors, mature escorts in NYC offer a level of companionship that is unmatched.